Picture this ideal world: some people are blessed with ample opportunities to explore their academic horizons and eventually settle on the careers they're passionate about. By this logic, every student would be busy teaching himself or herself efficient work habits throughout high school, college, and work.

But a common enemy walks among the best and the worst of us: procrastination.
From writing a research paper to updating your resume to submit to an employer, this disease affects our ability to get things done through a consistent progression of physical stages and mindsets. Here is a fundamental breakdown of the developing and critical points of procrastination as it takes hold, as told by the cast of The Office. Which stage do you find yourself most frequently stuck in?
If you find this article relatable, I advise an immediate change in your habits...starting next month.
1. Creating a mental or written outline of everything that you need to do.
Note Ryan's confidence and his self-assured physical appearance. All very temporary... and just for show.
2. Having your friends become involved when you start to lose willpower.

In a good way, of course. No one wants you to die after just one hit from Michael's car (metaphorically relatable).

3. Being productively unproductive.
Time to straighten out those priorities.

4. Realizing how screwed you are.
The epiphany that signals the peak of your hope and begins a merciless trend of exponential decay. On any normal day, Jim would never look at the camera like that.

5. Wasting time complaining without doing any actual work.
...Except yourself, probably.

6. Trying to study or prepare but your heart just isn't into it.
Too relatable.

7. Using random mental thoughts to keep you awake while working.
It's at least midnight by now, and the end is nowhere in sight.

8. But then actually being productive for a short period of time.
Emphasis on short.

9. Taking a break to reward your productivity.
Do you deserve it? Probably not. Are you able to enjoy it? Barely, because that enormous pile of work with a tiny dent in is still staring back at you.
10. Attempting to justify your poor time management.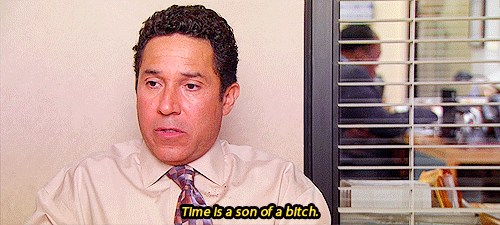 There's no denying it.
11. Giving up entirely.
At this point, you're fighting a losing battle.

12. Mentally and physically starting to lose it, but trying to pretend you're okay.
Because all you're running on now is iced coffee and RedBull.
13. Imagining completely unrealistic scenarios where you might not fail.
Hope? More like desperate hallucinations.
14. Exhausted, but still having the energy to freak out five minutes before the test or interview.
Did you even sleep though?
15. Wondering how you survived the ordeal.
You'll find yourself in post-traumatic awe.

16. And finally, becoming aware of the fact that you have been making the same mistakes for the last four to eight years.
And realistically, there's a good chance the pattern will continue to repeat itself.